Article about C.A.B on lawrence.com by the Fashion Column Twins
The Fashion Column Twins: Grab these C.A.B. bags
Elizabeth and I want to introduce you to C.A.B. Handbags. We recently became acquainted to the line by its creator, Carly Ann Beck, a handbag designer currently residing in New York City who's also a Kansas native.
Originally from Wichita, she started her fashion career in NYC in 2002 working for Diane Von Furstenberg, then moving on to Steven Alan as the brand director. After co-creating a handbag line called SEDGWICK (yes, after Sedgwick County!) she decided to create her own handbag line, C.A.B.
Win a C.A.B. handbag
Want to win a C.A.B. Mindy Mini crossbody bag like the one worn by Elizabeth Kennedy? Enter on Facebook or Instagram by following the instructions below:
To enter on Facebook:
Like the Fashion Column Twins Facebook page (if you haven't already)
Like the C.A.B. Collection giveaway photo and leave a comment telling us your favorite handbag color this season!
To enter on Instagram:
Regram the C.A.B. Collection giveaway photo we posted by the Fashion Column Twins with the hashtag #FCTCABGiveaway
The giveaway ends this Friday at midnight (CST). The winner will be picked at random, and we will be announced on Sunday!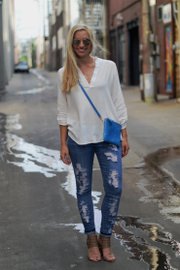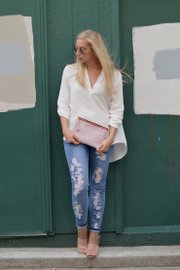 C.A.B. releases new monthly limited-edition styles that makes them so unique. We also love the local ties! Elizabeth and I are fans of investing in quality pieces that will last. These handbags are made of the highest quality leather and hand cut by skilled artisans. They are also made in the USA! The handbags come in many different styles, colors and treatments. We've styled a few to show you just how amazing these bags are.
Mindy Minis
If you haven't noticed, tiny crossbody bags are popping up everywhere. I love that they can be worn for anything from going to a sporting event to a day of shopping to a night out with friends. They are so versatile and easy to carry around your essentials. C.A.B.'s Mindy Mini in Cobalt has a rich blue color that's right on trend. It has an adjustable, removable crossbody strap can be worn as a crossbody, on the shoulder, or without the strap.
Mileva Pouch
The Mileva Pouch is pretty much the best creation ever. Essentially you're getting two bags in one thanks to its removable harness strap. You can wear this bag across your body or on the shoulder. Remove the harness and you have a stylish pouch that not only will hold your essentials but also an iPad mini. We love fashion and function and these bags will give you just that!
Waist Pouches
Fanny packs are back in a really good way! The Ree Waist Pouch offers a convenient waist pouch with a detachable strap that can be used as a belt.
You can then hold the pouch as a clutch! This style is so fun and really expresses how practical yet stylish these bags are.
If you love these bags as much as we do, you're in luck because you can buy them at Spectator's, 710 Massachusetts St., and online at www.cabcollection.com.
— Emily and Elizabeth Kennedy are twin sisters and fashion bloggers who share a blog called Fashion Column Twins. Emily writes this column. They can be reached at fashioncolumnblog@gmail.com.